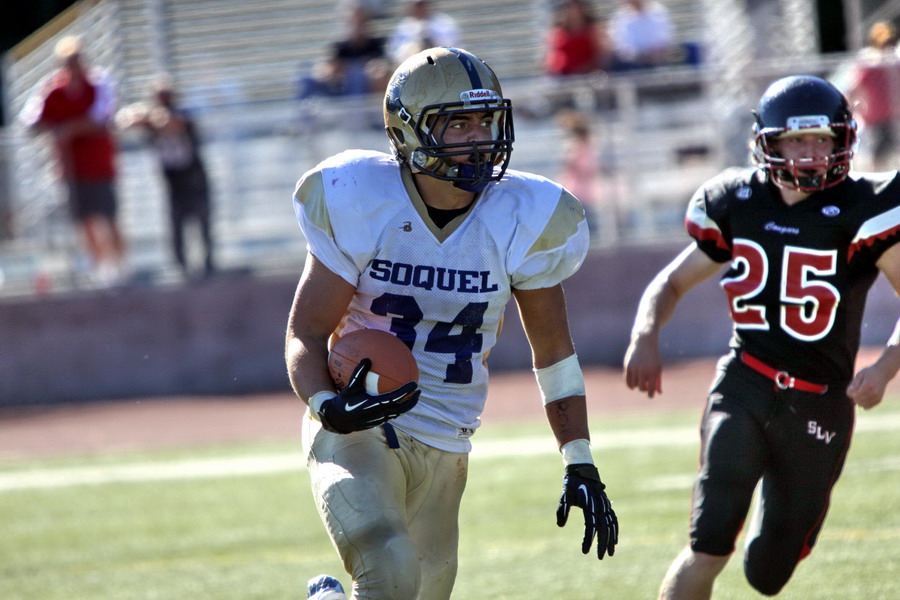 Championship Seasons
To print awards for 2011-2012 School Year - Varsity, JV and Freshman click here: Football Awards
Game Schedule. Click here.
If you would like to make a donation directly to the Football Program, click here.
Please contact the coaches or AD below for further information.
Athletic Director: Stu Walters 429-3950
Football Coaches
Varsity: Ron Myers This e-mail address is being protected from spambots. You need JavaScript enabled to view it
JV: Zach Silva
All paperwork must be completed before players can participate. Click on the link below for the page where the paperwork is found and read the instructions before printing.
Athletic Participation Package Page.
Print League 2012-2013 Schedule
For the most current information on Soquel High Football go to Coach Silva's site. Thank you Coach!
Football 2012
Soquel High Game Schedule
League Record 5-1-0 Overall Record 9-3-0 As of 11/24/12

Day

Date

Opponent

Location

Fresh

JV

Varsity

Var Scores

Thur

Sat

Sat

Aug 24

Aug 25

Aug 25

Jamboree

Jamboree

Jamboree

CabrilloCollege

Aptos

Santa Cruz

-----

10:00am

-----

-----

-----

5:00pm

6:00pm

------

-----

Tied for 1st

Place

Thur

Aug 30

King City

King City

5:30pm

-----

-------

Friday

Aug 31

King City

King City

-----

5:00pm

7:30pm

W 62-21

Sat

Sep 8

Carmel

Carmel

-----

11:00am

2:00pm

W 48-20

Thur

Sep 13

Seaside

Soquel

5:30pm

-----

------

Friday

Sep 14

Seaside

Soquel

-----

5:00pm

7:30pm

L 19-32

Thur

Sep 20

Silver Creek

Soquel

5:30pm

-----

------

Friday

Sep 21

Silver Creek

Soquel

----

4:30pm

7:00pm

W 53-6

Thur

Sep 27

Monte Vista Chr

Soquel

5:30pm

Friday

Sep 28

St. Francis*

Soquel

-----

5:00pm

7:30pm

W 42-0

Sat

Oct 6

Scotts Valley

Scotts Valley

9:00am

11:00am

2:00pm

W 33-24

Friday

Oct 12

Bye

Thur

Friday

Oct 18

Oct 19

Aptos

Aptos

Soquel

Soquel

5:30 pm

------

------

5:00 pm

-----

7:30 pm

L 21-32

Sat

Oct 27

San Lorenzo Valley

SLV

9:00am

11:00am

2:00pm

W 56-24

Thur

Friday

Nov 1

Nov 2

Watsonville

Harbor

Soquel

Soquel

5:00pm

-----

-----

5:00pm

-----

7:30pm

W 47-0

Friday

Nov 9

Santa Cruz

Santa Cruz

-----

5:00pm

7:30pm

W 42-0

Friday

Nov16

Carmel -CCSD IV Playoffs

Pacific Grove

W 49-42

Sat

Nov 24

Sacred Heart Prep- CCSD IV-Semi

Sacred Heart Prep

L 17-47
*Homecoming